Lehigh Valley Real Estate Market Report - October 2018
Whether you're buying or selling in the Lehigh Valley, understanding the effects of trends in the real estate marketplace is critical.
By knowing important data such as # of Homes Sold, Average Sales Price, and # of Days on Market, you

'll be better prepared to buy or sell a home

.
We prepared a market update for you that's easy-to-read & understand and showcases everything you need to know about current Lehigh Valley real estate trends.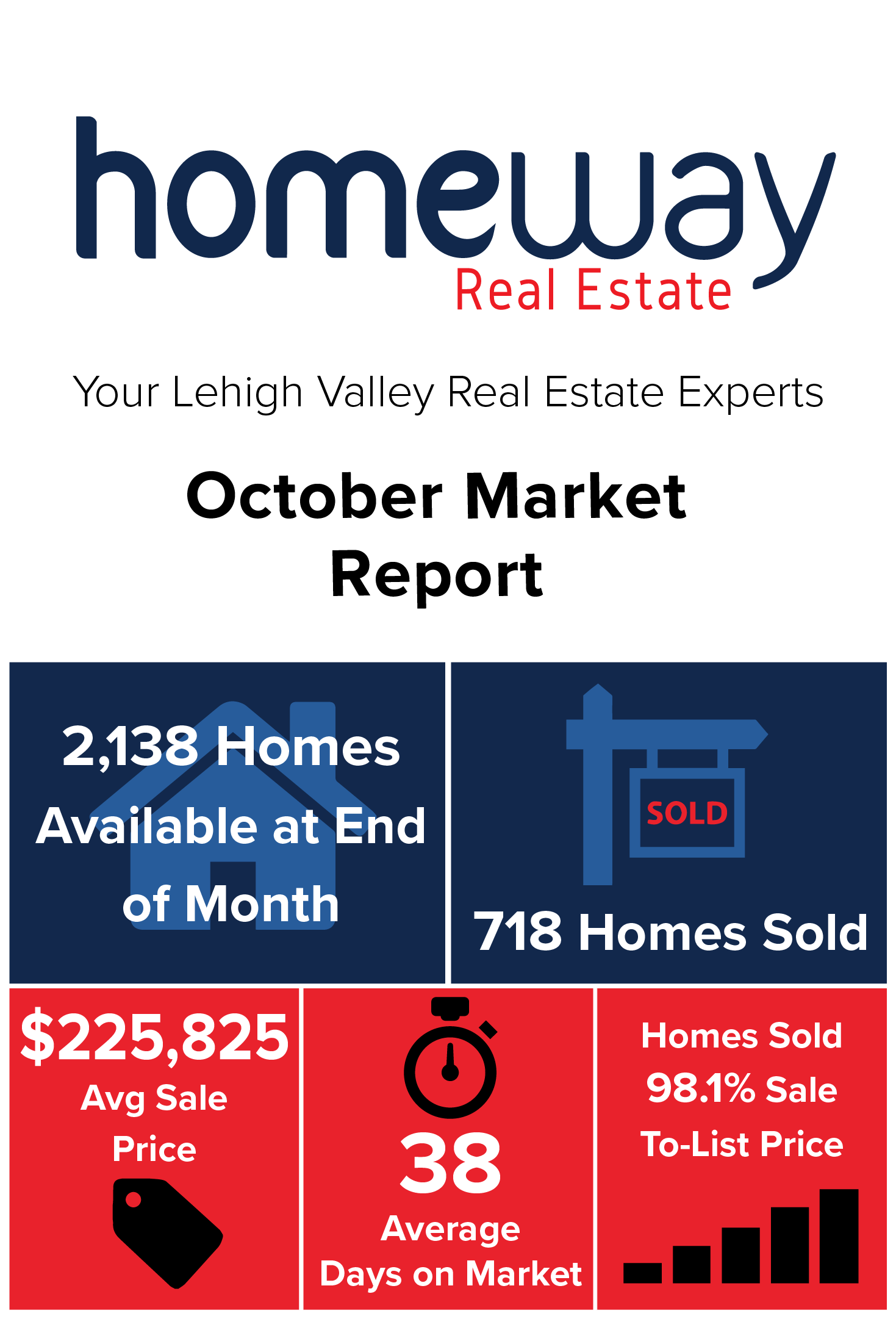 What do these numbers indicate?
2,138 Homes Available - Last year, the number of homes available in October was 2,270. The year before that, October of 2016, the number of homes available was 2,881. The lower the inventory in a market, the higher the home prices becomes on average. If you're looking to buy, you might want to pull the trigger this year before prices get any higher as expected.
718 Homes Sold - During this time last year, there were 715 homes sold. This change in number of homes sold might seem negligible, but since home inventory is decreasing year over year and home sales are still on the rise, it's indicative of a strong and stable real estate market.
$225,825 Average Sales Price - The average price of homes in the Lehigh Valley at this time last year was $215,394. Average sales price has increased 4.6%. This can be attributed to the two stats above, a lower inventory and steady closing rate.
38 Average Days on Market - In October of 2016, the average days it took for a home to sell in the Lehigh Valley was 55 days. This is a 30% decrease in the time it takes to sell a home in today's market. This is great news for sellers, and for buyers it means when they find something they like, a decision needs to be made fairly quickly to ensure they attain the home.
98.1% Sale to List Price - With it being such a competitive market, homes are selling for just about what they are being listed for. Long behind us are the days of making an offer on a home significantly below what it is listed for and expecting the offer to be accepted. When a home fits what a buyer is looking for, a strong offer needs to be made to secure the home over other buyers.
Selling Your Home?
Get your home's value - our custom reports include accurate and up to date information.
Get Home Value